There's already been a thread about Fathead's ridiculous animal regeneration retcon, but the implications of this are even more disturbing than they initially appear.
We're now at a point with NuWho where it's all but confirmed that the Doctor has fucked pigs, goats and sheep. Think about it. Fathead and Mufftwat went out of their way to show us that he has a voracious sexual appetite as a humanoid, rampaging across history to deposit his seed in everyone from Mata Hari to Elizabeth I, so why would he be any different in his numerous animal incarnations? Once he's regenerated back into humanoid form, what's to stop the (literal) randy old dog heading back to the farm and getting it on with Daisy? Were the 6th Doctor and Frobisher shagging behind the scenes???
Also, now that I think about it, RTD himself had the Doctor eat meat on several occasions, which can only mean one thing...
THE DOCTOR IS NOW A CANNIBAL.
There was once a time when I thought it would be impossible to retroactively make the 10th Doctor's moral hypocrisy more obscene, but he's actually managed it. "The Man Who Never Would" eats the corpses of members of his own species after boning them. What's to say he doesn't do the same to humans off-screen? Chinballs should just cast Ed Barlow as #14 and be done with it.
COMING SOON FROM BIG FINISH PRODUCTIONS...
\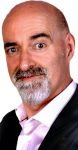 The Caverns of Doom
When the Doctor regenerates into a banana (one of several unseen incarnations between Troughton and Pertwee), River Song comes to the rescue, only to find that Missy had got there first.
Unspeakable
things happen. Only £159.99 to find out what. Exclusive visual accompaniment available for premium subscribers.